Snap-on 13 pc 1/2 Drive 12-Point SAE Flank Drive Deep Socket Set (3/8-1-1/8)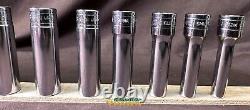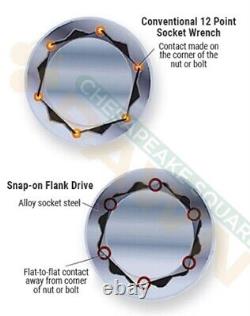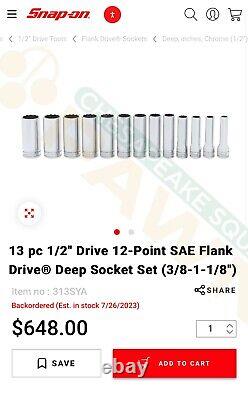 Presenting a 13-piece 1/2 Drive SAE Deep Socket Set with a 12-Point configuration (Model #313SYA) from Snap-on Tools USA. This set is in new condition and includes the sockets only as pictured. No tray or additional retail packaging. Set includes thirteen (13) 1/2" Drive SAE Deep Sockets; sizes from 3/8" to 1-1/8.
These sockets employ the Flank Drive® wrenching system, ensuring grip on the flats of the fastener. This provides 15-25% increased torque compared to traditional designs. The nickel-chrome alloy finish offers excellent resistance to rust and corrosion, ensuring longevity.
Crafted from top-tier proprietary steel for maximum strength and durability. It is free of any previous owner's engravings. The set comprises the following. Invest in this high-performance socket set for an unbeatable tool experience.