Milwaukee 49-66-7012 19PCSHOCKWAVE Impact Duty 1/2 Drive SAE Deep 6 Point Socke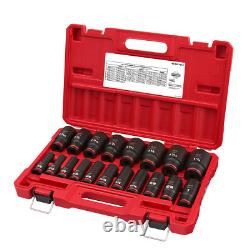 Features and Benefits: Features and Benefits:Stamped and ink filled diameter markings for wear resistance; 6-Point design made with forged impact steel for durability in high torque applications backed by our Lifetime Guarantee; Dual hole design and groove for easier attachment; Non-slip hex geometry to prevent socket and fastener rounding; Lifetime Guarantee covers impact sockets and extensions only; Laser etched part number; Optimized for use with 1/2 drive impact wrenches, drivers, ratchets, and adapters; Kit includes 19 Deep SAE Sockets. The following sizes are included: 3/8, 7/16, 1/2, 9/16, 5/8, 11/16, 3/4, 13/16, 7/8, 15/16, 1, 1-1/16, 1-1/8, 1-3/16, 1-1/4, 1-5/16, 1-3/8, 1-7/16, 1-1/2; Impact resistant case with nestability for easy stacking and storage; The MILWAUKEE 19-Piece SHOCKWAVE Impact Duty 1/2 in. Drive SAE Deep 6 Point Socket Set features the boldest, longest-lasting markings and extreme impact durability in high torque applications. The stamped and ink-filled size marking makes selecting the right socket every time easy throughout the life of the socket.
These Milwaukee sockets are engineered with high strength forged steel for optimized performance in heavy-duty applications. The non-slip hex geometry prevents fastener rounding, and a dual-hole design and ring groove allow for easy socket attachment and removal. The storage cases are impact resistant and nest together for easy stacking and storage. All SHOCKWAVE Impact Duty Sockets backed by a Lifetime Guarantee and meet ASME industry standards.