Gearwrench 84916N 44 Piece 3/8 Drive 6 Point Impact Socket, Sae/Metric Std/Deep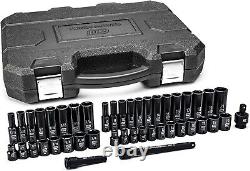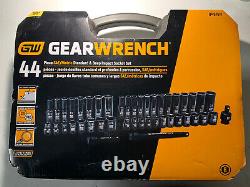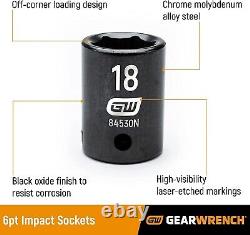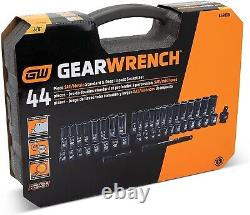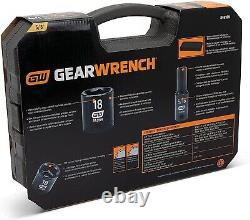 3/8 Drive 6 Point Standard & Deep Impact SAE/Metric Socket Set - 84916N. GEARWRENCH Impact Sockets & Drive Tool Accessories. Available in standard and deep styles in 1/4", 3/8", 1/2", 3/4", & 1 drives.
Parallel neck down feature on 3/8" and 1/2" drive to increase access to restricted fasteners. Sets are either packed in a heavy-duty reinforced blow molded case or on a socket rail. The blow molded case features reinforced molded inserts with sizes marked for quick identification, steel hinges and steel buckles for increased durability and strength. The GEARWRENCH socket rail is made of durable glass nylon and has a sliding clip system that allows the clips to slide within the rail.
The Gearwremch 44-Piece 3/8 Drive Impact Socket set is for the professional who needs heavy-duty sockets for their demanding work environment. We engineered these sockets with innovations for ease of use and durable strength, including a Chrome Molybdenum Alloy Steel construction, off-corner loading technology to reduce fastener rounding, chamfered openings to guide the sockets onto fasteners, and deep profiles to reach fasteners in low-access areas. We build our sockets with proven strength, for the automotive or industrial technician, aircraft mechanic, construction worker, technician, or other trades worker who wants tools that work as hard as they do.