1/2 in. Drive Deep 12-Point Socket Set 10 mm to 38 mm (29 Pcs)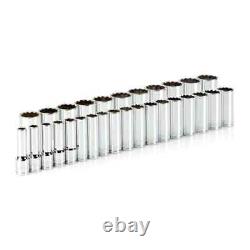 10-38 mm with no skipped sizes Large, stamped markings that won't wear off Grips sides of fastener head, not corners, preventing round-off TEKTON 1/2 in. Drive 12-point sockets are an exact fit for double hex fasteners and also work with hex and square shapes. They're designed to grip the sides and not the corners of the fastener heads, which prevents round-off.
Their extended length allows the deep socket to fit over long fasteners and reach into recessed areas. The large, die-stamped markings are permanently impressed into the material and optimized for readability. 12-point opening fits double hex (12-sided), hex and square-shaped fasteners Socket geometry is designed to apply force to flat sides of fasteners and not the corners, preventing round-off Deep-length sockets reach into wells and accommodate the excess threads of longer shafts Extra-large die-stamped size markings are easy to read and cant wear off Polished, chrome-plated finish easily wipes clean and is highly resistant to corrosion 4 detent grooves provide a secure connection with the drive tool Beveled inner rim of the socket opening helps guide it smoothly onto fasteners 29-piece 1/2 in. Drive deep 12-point sockets: 10 mm, 11 mm, 12 mm, 13 mm, 14 mm, 15 mm, 16 mm, 17 mm, 18 mm, 19 mm, 20 mm, 21 mm, 22 mm, 23 mm, 24 mm, 25 mm, 26 mm, 27 mm, 28 mm, 29 mm, 30 mm, 31 mm, 32 mm, 33 mm, 34 mm, 35 mm, 36 mm, 37 mm, 38 mm.